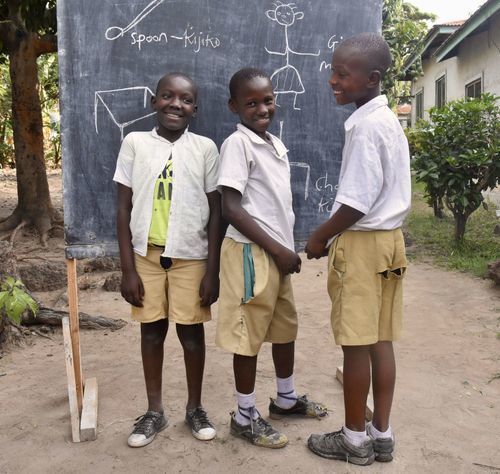 Tumaini Tutor Uniform Library provides students with uniforms and shoes required to attend public school.
Students borrow a larger size as they grow!
Imagine being denied a public school education simply because you don't have the right pair of shoes.
This is a growing reality for orphaned children attending Health & Hope's Tumaini Tutor School.
Tumaini provides free tutored education to orphaned and impoverished children to supplement primary and secondary public education. Tumaini has no uniform requirement; however, a school uniform, including black shoes, is a requirement to attend public government schools in Tanzania. 
A student arriving at public school without a complete uniform is sent home.
Developing world poverty has disproportionally increased for grandmother guardians and single woman heads of household causing families to choose between buying food or buying uniforms so their children can go to public school. 
A Uniform Set includes a top, trousers or skirt, sweater, and 1 pair of shoes. The average cost is $50 per set. 
The Uniform Lending Library:
Breaks a barrier to access childhood public school education.
Contributes to community economics with fabrics, shoes, and sweaters purchased locally and uniforms sewn by neighborhood tailors. 
Helps kids learn by feeling confident and great inside!