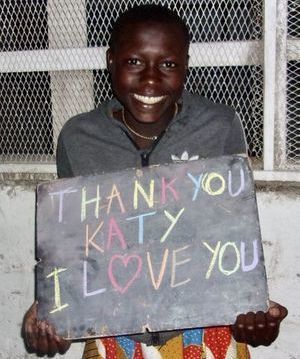 This opportunity changes lives. 
Many children who attend Health & Hope Tumaini Tutor School lack funds to attend public school. Your Sponsorship means a child has funds and supplies to attend public school as he/she continues daily tutored education at Tumaini Tutor.
The cost to sponsor a student is $350 per year.
 We hand-carry your sponsorship support to nearby schools with whom we work closely. Student Sponsorship includes school fees, uniform and shoes, backpack, calculator, books, supplies, and stipends for transportation, food, and medical needs. 
Ongoing relationships through mail and email are facilitated. Maybe you can even join us for a visit, too!
Tumaini students hoping to meet You.
Andrea Ngasa

Andrea is 17, and a junior (Form 3) in school. He has been a Tumaini student for 1 year. He has high academic promise, enjoys music and swimming. His dream is to be a doctor and he does have that potential. He is from a distant village where his parents died 3 years ago, and his siblings became scattered. Well-wishers brought him to Mwanza to live with an uncle who chased him away. He lives with an unrelated guardian but lacks school funds to continue attendance.

Monica Joseph

Monica is 10 years old and in Grade 5. She is very hardworking and dreams of becoming a teacher. Monica and her 4 siblings live with their grandmother. She joined Tumaini 2 years ago and has made steady improvements since. Her father died and her mother moved to a distant village. She loves music and is a whiz at netball!

Ramadan Boniface

Ramadan is 10 years old and in Grade 5. He has 3 siblings and lives with his mother. The father passed away. Ramadan's favorite subjects are math and science, and he would like to become a doctor. He loves all running games and athletics. He wants you to know his best food is rice :)

Jenerosa Masinde

Jenerosa is 15 years old and in Grade 9 (Form 2). She has lost both parents. Jenerosa and her two sisters live with their grandmother. She has been a Tumaini Tutor student for 4 years. Her dream is to finish high school and become a nurse. In her spare time, she likes to play basketball.