Sofia: Voice of a Volunteer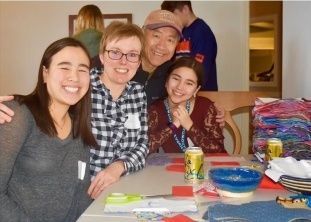 "I thank our At-Home Volunteers from the tips of my toes. Your care and compassion are changing lives and making a difference. Because of you, one smile at a time, the world becomes better." Thank you, Loree Bolin, Director.
We are a family that volunteers together.  Three years ago, we signed up to volunteer for an HHF at-home volunteer event. We had heard about Health & Hope Foundation from a friend. We were impressed with the work being done in Tanzania, especially the program to educate children. At the time, I was 15, and my sister Bella was 13. We were a bit nervous and we were the youngest volunteers there. I am now a student at the University of Washington. My volunteer experience has helped to shape my career goals.
When we first arrived, we were warmly welcomed by Loree (the Director) and Peter (a Board Member.) They gave us a tour to show us the various tasks the volunteers were working on and helped us understand how these tasks fit into the work Health & Hope is doing.  Many of the volunteers were working on sewing, cutting, or assembling washable feminine hygiene kits and others were packing or portioning supplies for the medical part of the Healthcare Outreach in Tanzania.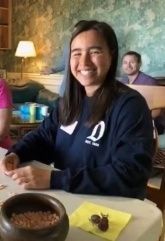 My dad, Stefon, likes to sew on the serger machine or package water safety test kits. My mom, Jenni, is a nurse. She helps to package de-worming pills and multivitamins. My sister and I often work as a team assembling washable feminine hygiene kits for girls and women into bags. We count and package them into the tubs the HHF volunteer team will take to Africa. "On one of the days, I learned how to sew!"
We also participate in HHF fundraising activities. Peter, a retired Paramedic and Firefighter, offers CPR/AED and First Aid classes as an HHF Fundraiser. When I became certified in CPR/AED and my mom and I volunteered to work with the students and help Peter teach the CPR/AED classes. "It was an amazing experience, teaching someone how to potentially save a life."
The Woodinville Leprechaun Leap, a family-friendly 5K/10K, is another fundraiser for Health & Hope. "I was able to open the opportunity to classmates in my high school's clubs and sports teams to help volunteer for the Leprechaun Leap. Being a part of the volunteer team allowed me to grow my skills as a leader, coordinating between the high school and the foundation. I have learned how to put my connections to use and come up with creative solutions."
Volunteering with HHF to promote healthcare and education for vulnerable people "has really solidified my goal of going into the medical field. My goal is to someday go on the trip as a doctor and provide medical care."